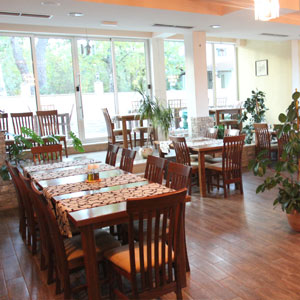 In our restaurant, we guarantee the harmony of taste and smell. Let us take you through our unique and creative dishes based on local seasonal ingredients, homemade herbs and spices, the glamorous and exciting world of ambitious cooking.
With this approach to cooking, we offer the best wines from Herzegovina and a large number of the world's most interesting wines.
The restaurant is open to hotel guests and all those who wish to taste the richness and originality Herzegovinian kitchen that follows the world renowned culinary trends.
For guests who prefer intimate dinners, there are VIP lounges as well as a beautiful garden full of flowers, where they can have fun and relax in good company.
The restaurant has a capacity of 100 seats, inside of the hotel, while in the summer the garden has another 100 seats.